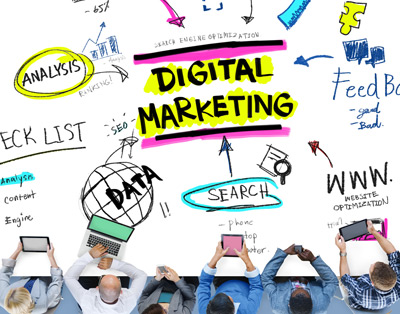 Let us make your job easier: As a business owner, you need to focus on a bunch of moving parts just to keep your business up and running. You probably understand the essential value of a solid digital marketing plan for your business, but don't have the time or expertise to strategize effectively. That's where we – the experts – come in. We implement thoughtful, results-driven marketing campaigns. We'll study your target audience and your business's industry, market and direct competitors. We combine our research with a set of clearly defined goals you help create to craft the right digital marketing approach for your business.
What we deliver is an effective and efficient strategy that will act as one of the core foundations of your business. The end result is a significant build in momentum, unlocked business potential and scaled growth beyond your current goals.
When it comes to digital solutions, there is no one best way. Likewise, there is no one best channel. Each channel can hold varying degrees of value for business growth. Our digital-savvy experts are skilled at crafting a strategy that includes the channels that will be most effective for a particular business based on established research and goals.
Think of it as if you are playing a game of golf. Golfers use different clubs — such as long ranger driver, mid-range, and putter – depending on how close they are to the hole. Here are just a few of the "golf clubs" we will use to get your business closer to each flag on your list of goals.
Interested? We would be, too. Let's dive deeper into your business's digital situation and the solutions we can offer you. Schedule a free strategy consultation call today.
Marketing Automation
Social Media Marketing
Landing Pages
List Building
Social Media Marketing
Google PPC
If it's clicking for you, and you would like to dive deeper, let's have a 20 – minute strategy call and discuss your business game plan.