"Measuring programming progress by lines of code is like measuring aircraft building progress by weight." ― Bill Gates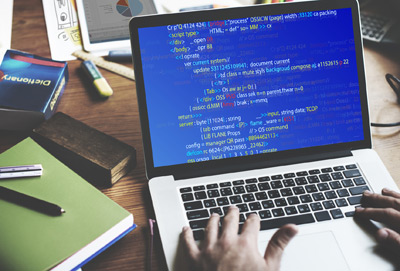 One of our strong beliefs when it comes to programming is to maximize the abilities of each line of code so that it serves the project goals across the board. We believe that the most effective projects are ones that harmonize what the development team and marketing team are trying to achieve in mastermind sessions that include the whole organization. The owners and executives add their point of view, and the approach of the business is optimized for as they utilize their perfected system in the future.
No, web-based applications and mobile apps don't have any limbs. But you easily could consider them a virtual robot that is designed to serve your business goals and needs, while simultaneously making the whole process as efficient and effective as possible. But you need to build the robot before you can let it work for you. This is why marketing, business strategies, and programming should be combined before, during and after the creation process. This approach elevates any line of code that will eventually make up the components of your end product.
Some examples of your end product can be:
Informative small business website
E-commerce
Cloud-based custom software
Cloud integration
Web application
Mobile app